Kettering Town FC Community Trust is delighted having received funding for new floodlights thanks to children's charity Oakland Foundation.
Offering free community football coaching sessions every Thursday evening from 6-7pm for 7–10-year-olds, and 7-8pm for 11-17-year-olds, Kettering Town FC Community Trust Project Manager Joshua French commented: "Our sessions run from March to October, but with the shorter days and diminishing light we can't hold these sessions during the winter months.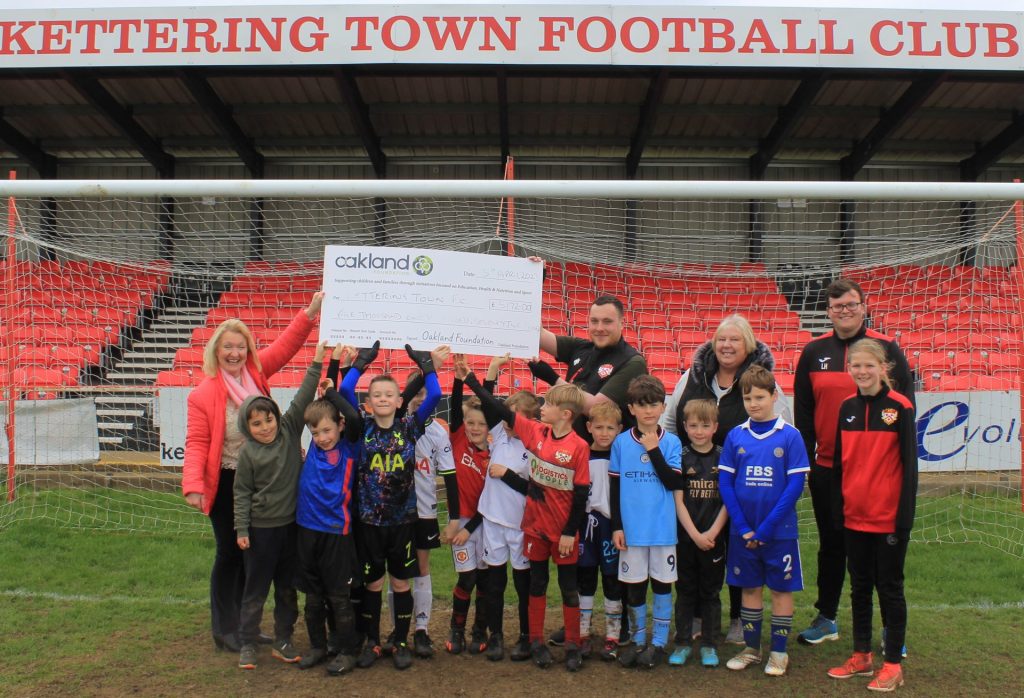 "We approached Oakland Foundation and requested help to purchase floodlights so that we could continue all year around, so we were delighted when they approved our request. Our hope is by engaging young people from across our community in football sessions we can help them build self-confidence and develop a feeling of community belonging whilst helping reduce the instances of anti-social behaviour."
Oakland Foundation granted Kettering Town FC Community Trust funding to purchase eight portable floodlights with the players commenting that it now feels like they're at a real football stadium and not just playing in a field near their homes. The new floodlights also mean that they can travel to more fixtures during the season and extend their winter football training sessions.
Oakland Foundation Donations Coordinator Debbie Roberts commented: "As part of Kettering Town FC Community Trust's Easter activities I was able to meet a younger group of children and it was clear that they very much appreciated the Foundation's support.
"Although very windy and rainy when I visited, with our large donation cheque nearly blowing off down the field, it was unmistakeable to see that Kettering Town FC Community Trust is delivering some wonderful children's and young people's football programmes across Kettering and as they move forward the Oakland Foundation is excited to see their community role develop further."
Launched by family business and total supply chain solutions provider Oakland International, the Oakland Foundation charity aims to ensure all children, and particularly those living in poverty or who are underprivileged, irrespective of social background or physical ability, can participate equally by offering support to children under the age of 16 and their families through initiatives based around education, health and nutrition, and sport.